Contact Vermont
Tennis Court
Surfacing for a
price quote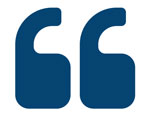 Wonderful company to do business with. Prompt, courteous, efficient and a job well done.
TOWN OF MOUNT VERNON, NH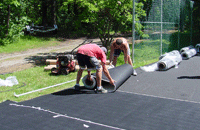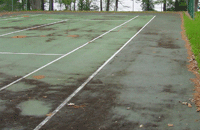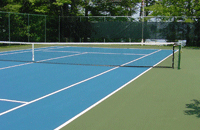 Wouldn't you like to play on a soft surface which doesn't require daily and yearly maintenance? Vermont Tennis Court Surfacing is proud to offer the finest solution to soft court surfaces today. PREMIER COURT® is the culmination of the most expansive research and development program ever in the tennis court and sports surfacing industry. Millions of dollars have been spent to develop the finest cushioned, crack proof, maintenance free playing surface available. PREMIER COURT solves existing cracking problems and eliminates future cracking problems that are destroying hard courts.
PREMIER COURT® is:
an all-weather cushioned sports surface, ideal for indoor and outdoor installations.
designed to be an overlayment to hard courts, either asphalt or concrete.
developed to eliminate existing cracking problems and prevent future problems.
for courts on ground level, roof or garage decks, and perfect for courts with limited or poor access.
a surface that provides consistent playability shot after shot – GUARANTEED for 25 Years!
TWICE the cushion of a traditional acrylic cushion product.
The Cushion Advantage and Proven Performance
Cushion is something all players want and need. The constant pounding and jarring to body joints is wearing tennis players out and making the game less enjoyable. But real relief can only be provided by a true impact absorbing cushion surface, and PREMIER COURT® provides this, making it the most advanced cushioning system ever developed. Traditional acrylic cushion coating products and traditional soft courts fail to come close to providing the cushion effect PREMIER COURT® provides.
One example of a traditional acrylic cushion coating product applied to a hard court pavement is the courts at the US Open Tennis Complex in New York. When you compare cushion values of PREMIER COURT® to the type of surface at the US Open, you see that PREMIER COURT® provides more than TWICE the cushion effect than a traditional acrylic cushion product. This is accomplished while providing virtually the exact same playing characteristics and playability.
Comparing Soft Court Surfaces
In comparing the cushion values of PREMIER COURT® to clay or fast dry type surfaces, the numbers show that PREMIER COURT® provides a consistent cushion value throughout the court, often times twice as much as the clay or fast dry type court.