Contact Vermont
Tennis Court
Surfacing for a
price quote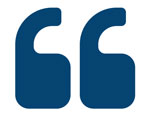 The service and workmanship were superior. I have recommended Vermont Tennis Court Surfacing to two other parties already.
TIM O'DONNELL
Fencing
Vermont Tennis Court Surfacing specializes in all types of fencing, whether it be wood, chain link, or full vinyl systems. Our unique installation technique allows for a uniform asphalt surface, hiding unsightly concrete.
The purpose of fencing around a tennis court is to keep balls within the court during play. Traditionally, tennis courts have been surrounded by fencing with an overall height of 10'. All around fencing may be traditional, but it is not necessary for play.
Vinyl clad fencing is more expensive than galvanized but provides benefits in terms of durability and aesthetics. Color coated fences help tennis courts to blend into their surroundings, enhancing their appearance.
All our fences are built to the high standards of the American Sports Builders Association (ASBA). The framework for a 10′ high fence should have a minimum strength of schedule 40 weight tubing. All gate and corner posts should be 3″ in diameter, while line posts should be at least 2-1/2″ with one 1-5/8″ top rail. All posts should be set in 12″ diameter by a minimum 48″ depth concrete footing.
In addition to tennis court fencing, we supply and install fencing for a variety of facilities such as ballfields, tracks, backyards, etc. Windscreens and tennis backboards are also available.
Contact Vermont
Tennis Court
Surfacing for a
price quote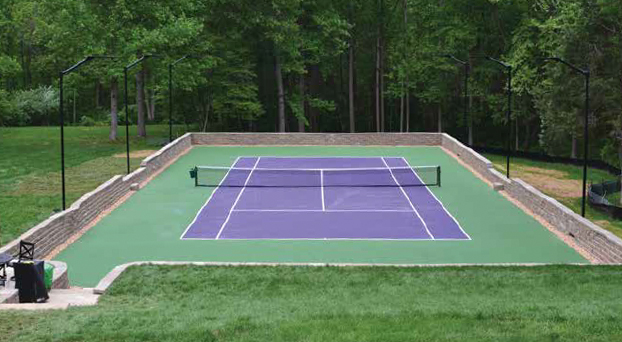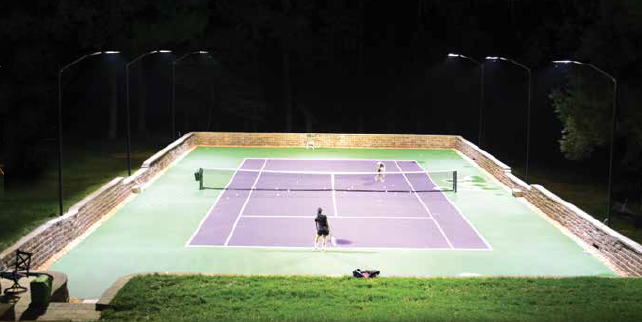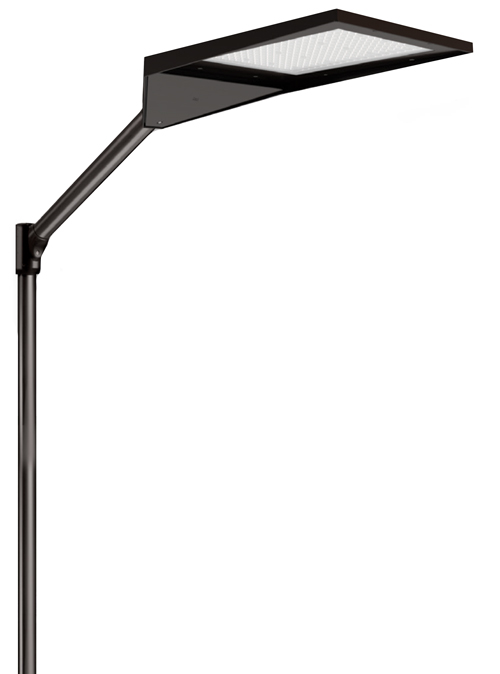 Lighting
With the limited amount of daylight playing time in the New England tennis season, Vermont Tennis Court Surfacing lets you extend your day with custom designed lighting systems.
LED Sports Lighting Features
LSI's CourtBlade LED sports light is a game changer for court lighting applications. The low profile CourtBlade utilizes high performance LEDs and precise optics to produce superior levels of illumination and uniformity. Compared with typical HID court lighting systems, the energy load is reduced by 50%.
High Performance, Full Cutoff LED
Aerodynamic, Low-Profile Shape
50% Energy Reduction vs. 1000W Metal Halide
60,000 – 100,000 Hr Expected Life
Direct Retrofit Mounting of LSI Courtsider

® 

and Aerosystem

®

fixtures
Matching Poles & Brackets Available
Lightweight for Easy Installation (55 lbs.)
Consistent lumen output over fixture life
Instant On and Dimmable
Optional wireless control available
5-Year Warranty
Surge protection built-in
Photometric Testing (3rd Party Tested)
Glass lens over LED nodes vs Acrylic
Indoor Court Lighting
Indoor sports lighting products provide high performance and energy efficiency. LSI's SXS2 indoor indirect LED lighting system offers the perfect combination of low energy consumption and high light output along with low maintenance and a long life. This lighting is appropriate for universities, municipalities, country clubs, and more.
Other Specialty Sports
Along with tennis, Vermont Tennis Court Surfacing has experience in designing lighting systems for other outdoor activities, including basketball courts, volleyball courts, and skate parks. In the past, we have provided lighting systems for universities, recreation centers, municipalities, and private residences. Let Vermont Tennis recommend the right product for your project.